Deep Data Analytics
Know more from your data! Incomaker can work with data about your product, customer history, operations, or even with weather data if you want and combine it with data from your campaigns and web analytics to extract valuable information not only for your reports but also to manage your automated campaigns. Give Incomaker any kind of data through the open API to leverage it for a better marketing.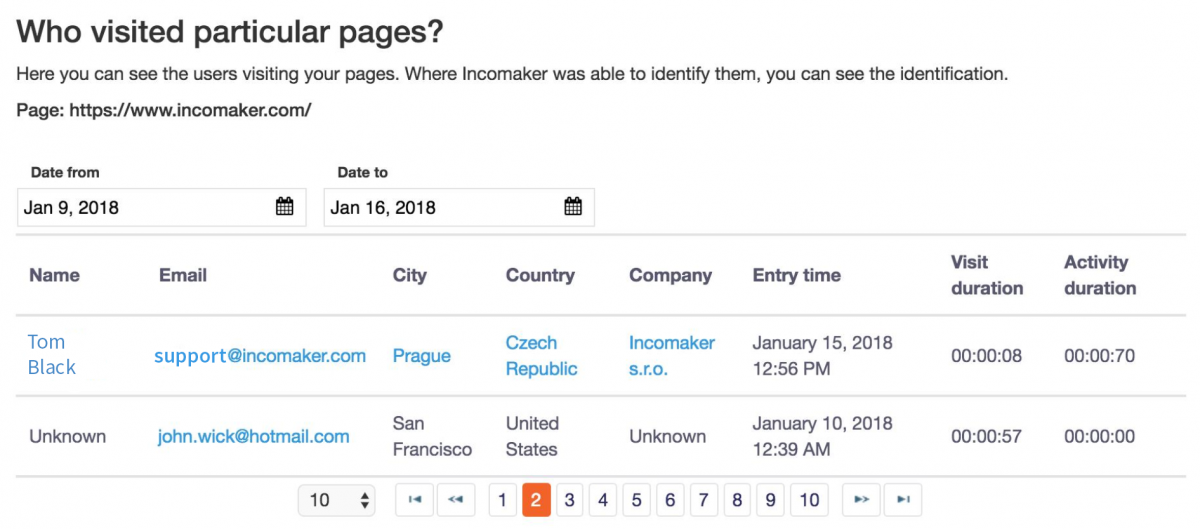 Web Microanalytics
Do you think Google Analytics has all information you need? Did you notice that they tell you about the numbers of visitors, but never tell you about the particular people, who they are and what they do? Incomaker Analytics does. In real-time you will track the individual visitors one by one. Moreover, you can set up various actions dependent on user behavior.
Visualization and Geolocation
Incomaker presents data in clear visualized form. Web visitors, customers addressed in marketing campaigns or sales are shown in interactive maps whenever appropriate. Numeric data are shown in lucid configurable reports. You, your boss or your shareholders will love the charts!
Campaign Analytics
Incomaker measures performance of your campaigns. You always know the results of your campaigns, what worked and what should be improved next time. How does this product ad work for that segment and what is the performance of the particular touchpoints? You know who and how exactly reacted to your campaign and what they did next. Evaluate costs, measure ROI, optimize performance.
VIVO consult provides industrial dust solutions. We chose Incomaker to automate our digital marketing and help us to approach new clients.
Vivo Consult, Vítězslav Votruba
Web page Heatmaps
Webpage heatmaps show you the activity of page visitors on your websites. it is a very efficient way how to evaluate whether the web works as expected. Why don't people click on a particular menu item? Shouldn't you replace it with something else? Is there something interesting for your visitors that would deserve a better place? Heatmaps are a priceless help for your SEO.
Social Media Analytics
Measure your engagement, likes, shares, ciicks, and conversions. Benchmark your social profiles, analyze and optimize it. Track visitors coming from your social profiles and blogs. Evaluate the costs of your conversions from social media.